A s a must-have car accessories, this Duracell Mobile Inverter converts 12V battery power from your car cigarette socket up to 150 Watts household AC power with a USB port to power your laptop, tablet, smartphone, electronic device and gadget. Its compactness with a flex neck fits unobtrusively into the tightest spot inside your car to provide you with power whenever you need it.
Product Features:
Compact, unobtrusive case design
Flex-neck for easy connectivity
Provides up to 150 Watts total power
One type B 120V 60 Hz AC outlet
One 2.1 Amp USB port
Three year Duracell® warranty
Product Specifications:
SKU: DRINVM150
Dimensions: 2.4 x 2.2 x 1.2 in. / 6.2 x 5.6 x 3.0 cm
Weight: 0.2 lbs. / 0.1 kg
For additional technical details, please refer to the Tech Specs sheet.
---
Also available
Same features in a Cable Hub
SKU: DRINVP150
Cord length: 3-foot / 0.9-metre
Dimensions: 3.9 x 2.7 x 1.9 in. / 10.0 x 6.8 x 2.3 cm
Weight: 0.4 lbs. / 0.2 kg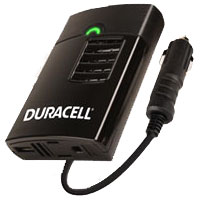 Duracell® is a registered trademark of Duracell U.S. Operations, Inc., used under license.
---