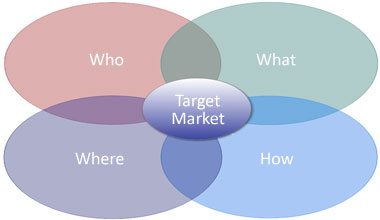 Marketing is not about selling the product, but about how to fit the product into a person's life to make it easier and richer. Strategy development is the key to success in marketing.
What is Strategy?
Strategy development requires a series of judgments. Judgment should be made by digesting and analyzing all the pertinent information gathered from marketing research, that answers four major questions:
Who or what is the competition? (Positioning)
Who is the market and what are their needs? (Prototypical Prospect)
What do we want the prospect to know, feel or believe? (Consumer Benefit)
What is the best way to reach the prospect? (Where, How, Media Mix)
Here is a Marketing Strategy Template to help you formulate your marketing strategy properly.
What is Marketing Research?
Research is just another word for information. Marketing Research divides into two major functional stages, Market Definition and Tracking.
Market Definition is most essential and divides into four steps:
Desk Research: We dig up all pertinent information buried in the files or scattered through other research and sources. Then, we sort it all out, digest it and put it in an organized, synthesized and useful brief.
Attitudinal or segmentation Research: At which, we look at consumer in term of prototypical grouping or need groups in order to link their attitudes and characteristics with attributes of different products.
Exploratory Research: At which, we talk to individuals and have discussion with different need groups in order to get a clearer understanding of their problems, their needs, or any thing that maybe of their interest to buy.
Selling Propositions Research: At which, we measure various competitive advantages against one another for their relative importance and exclusivity.
Tracking is to measure the effect of marketing. The quantitative measure of sales results is always the ultimate yardstick, but as there are so many other influential factors, qualitative measure should also be applied, e.g., awareness and attitude changes through time, etc.
Tracking also provides valuable diagnostic information, e.g., if awareness is not increasing rapidly enough, if certain attitudes are not changing accordingly, if unforeseen outside influences are creating new imperatives, etc., we may, then, adjust or change our strategy.