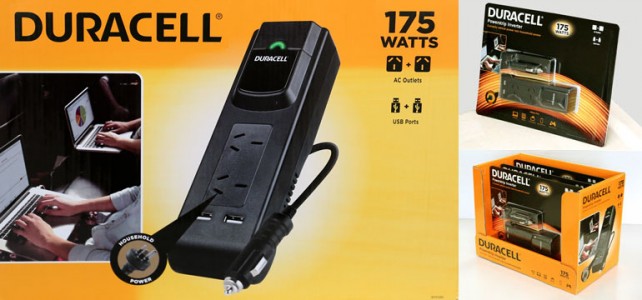 A special edition for Argentina, Australia and New Zealand, this Duracell Powerstrip converts 12V battery power from your car cigarette socket up to 175 Watts household AC power for your computer, electronic device, small appliance, handheld tool and household gadget with two AC sockets and two USB ports, ideal for long road trips with your family or a group of friends.
This special edition comes with marvelous retail display packaging, easy to capture consumer's attention and call for their action to buy, while saving your additional costs of display and promotion.
Product Features:
Convenient powerstrip style design;
Two 220-230 Volts type I household AC sockets and two combined 2.1 Amp. USB ports;
Provides up to 175 Watts total power;
3-foot / 0.9-metre input cord allows easy access and sharing;
Protects from low battery voltage, high battery voltage, overload and short circuit;
Three-year Duracell® warranty.
Product Specifications:
Part Number: DRPS175CAU
Dimensions: 7.4 x 2.6 x 1.8 in. / 18.9 x 5.8 x 4.6 cm
Weight: 0.7 lbs. / 0.3 kg
For additional technical details, please refer to the Tech Specs sheet.
---
Also available
Type G 230V 50Hz
for England
Part No.: DRINV15-UK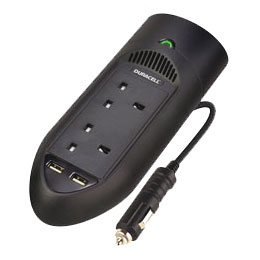 Type F 230V 50Hz
for Europe
Part No.: DRINV15-EU
Type B 120V 60Hz
for America
SKU: DRINVPS175