Save your power bills and the globe, HomeHub™ redefines what a renewable energy storage system should be. Designed by engineers in Germany, HomeHub™ works highly efficiently to save much of your power bills; the stackable lithium ion high energy density battery modular of HomeHub™, each is of a capacity of 2.5kWh, can be expanded up to four to meet your growing energy needs; the cool metallic finish of HomeHub™, blends perfectly well with your elegant home and lifestyle; the intelligent monitoring system of HomeHub™,  provides you with synchronized display of information on the system status and warnings, if any, on both the touch screen monitor of HomeHub™ and your smart phone.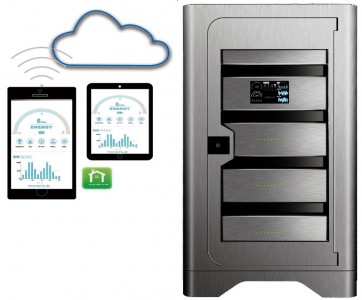 Choosing the right renewable energy storage system for your home is a major decision, as it is a long term investment that will not just store renewable energy from your solar or wind turbine system, but also will protect and enhance the value of your home.
There are five identifiable common sizes of storage solutions you can choose. But making the right choice can be tough, as your energy needs will grow and you don't want to end up in installing a new system, nor have a big investment in a large storage system that you don't need now.
So, if you are looking for investment opportunity and like to be on the gravy train, drop us a note today!